As you all know,
yesterday
I intended on showing you all what the girls made for
Fathers Day
this year but due to some
complications,

there was a change of plans
. Instead you were left with
last years
Fathers Day gift. Although I do think it was a very adorable gift. (If you missed it you can view it
HERE
)
But now, on to what you have all been waiting for. It all started with a trip to Michaels. I love that store!!! I found this adorable kit to make your own stepping stone.
Although I think the kit was very useful and it came with some adorable star and moon decoration, I think this project would be very easy to do without a kit. Just mix up some cement, pour it into some sort of form (a disposable baking dish would work great), add hand prints, decorative stones and voila...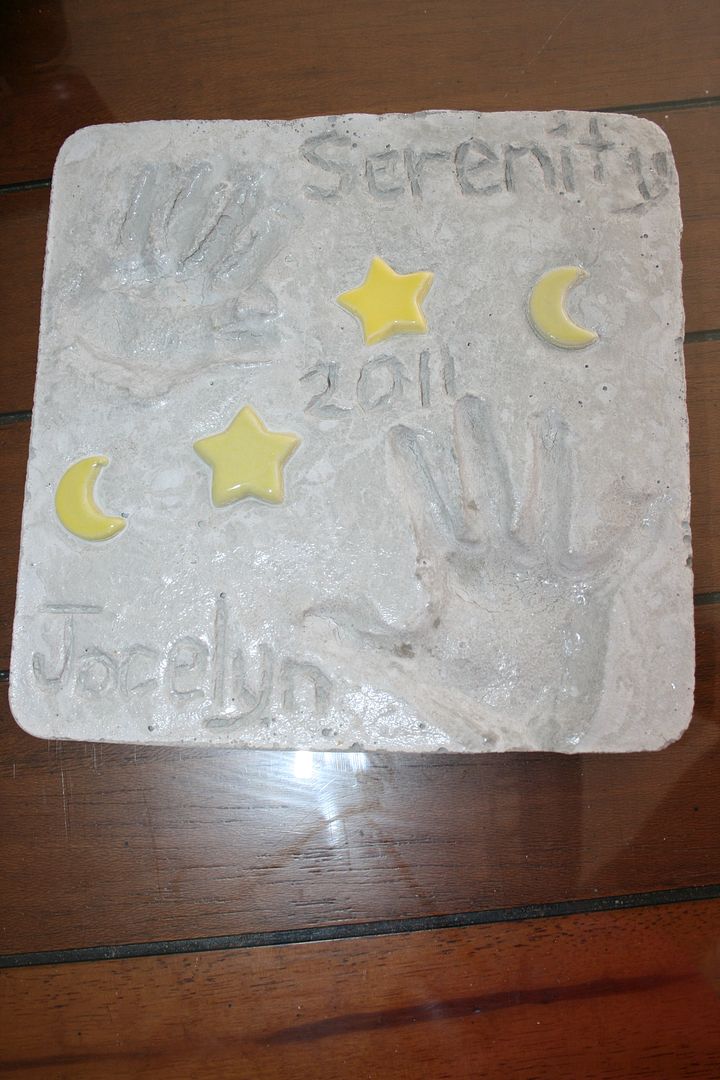 Sorry for the crappy pic. I took better ones but for some reason they would not upload.
I waited 24 hours for the cement to set a little before adding the names. Then another 24 hours before I took it out of the form. Isn't that the cutest little thing?
I also picked up a couple cheap coffee cups to let the children decorate for Daddy and Grandpa.
Across from the coffee cups I spotted this adorable little bird house and knew it was perfect for Grandpa.
He loves sitting outside of a morning with his cup of coffee, watching the birds hop around his yard.
I gave the kids some tempera paint and paint brushes, dressed them in a plastic bag and let them go wild.
Bugaboo was pretty pissed off that I wouldn't let her eat the paint so she didn't participate much.
Princess on the other hand had a blast.
Here is what the finished product looked like. Isn't it fabulous?
Ok, so maybe these gifts are not as pretty or fabulous as some of the other fathers day gifts that I have seen floating around blog land but this was something that the kids were able to do
100% on their own
without any help from Mom. I think that alone is what makes them so special.
Linking up to
THESE
parties.
Did you enjoy this post? Vote for me by clicking the button below.