Have you seen all of the adorable monsters running around blog land lately?
You know, those adorable little guys used to patch the holes in kids pants!!


If you have kids, more than likely at some time or another your going to find holes in their pants.
Well Someone (there have been so many posts, I don't know who came up with it first) had the amazing idea to turn these holes into monsters.
*Note: I think I may have found the original creator of these monster pant. You can check it out HERE.
I was so excited when I first discovered this idea. I had just the pants for the project.
These were hand me downs from big sister and as you can tell they have had their fair share of abuse. I started by gathering all of my supplies.
Colored Felt
White Felt for Teeth
Cute Buttons
Thread (I used black but any color will do)
(I was originally going to add some ribbon bows but I didn't like them and decided they would just get ripped off anyways.)
I cut the colored felt slightly larger than the hole I was patching. Then cut some teeth out of the white felt. Using a simple running stitch ( I had to actually look it up to find the correct name. lol ) I attached the colored felt and teeth to the pants.
Then I sewed the buttons on. Knowing that these were going to get tugged on quite a bit, I made sure they were good and secure.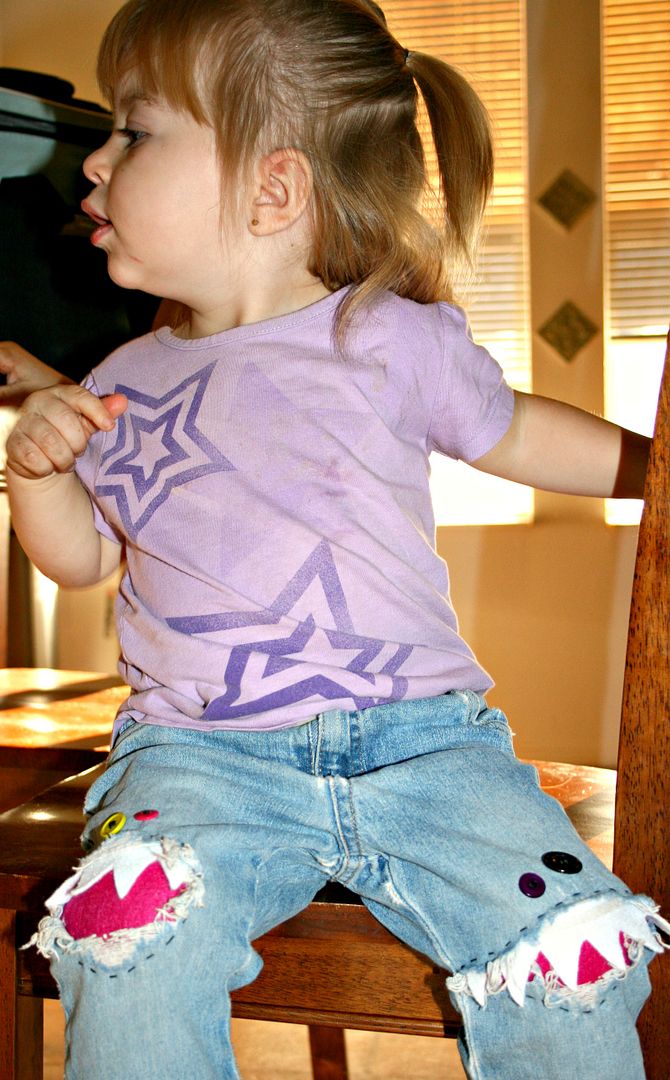 She Loves her monster pants!! Only problem is, she wants to wear them every day!